1. History of alpaca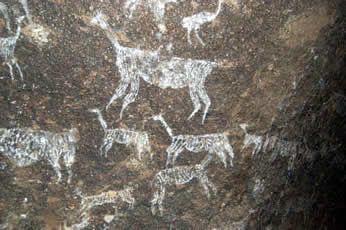 These cute and adorable animals, originating in the Peruvian Andes, are a mysterious miracle of nature.
In the past, alpacas played a vital role in Peruvian history. Researchers estimate that domestication occurred around 4000 – 5000 BC, this was deduced from pictures drawn in caves. According to history, Quechuas are the first natives of Incas civilization, who had the alpaca breeds under their protection. Alpacas were a symbol of worship, except for the utilization of their fleece. Their fleece was used as currency, even small woven pieces, and often reflected someone's social status. The well-known "royal alpaca" took its name from the finest alpaca clothing that was offered to the Inca royalty. In fact, it was made from a baby alpaca's first sheer, also referred  to as "The Fiber Of The Gods", it was a true symbol of respect. Therefore, alpacas continue to have a crucial place in the prosperity and culture of Peruvians, even till today. It is a symbol of tradition and for many Andean families, their main source of income.
2. Alpaca – The king of fibers
   Alpaca fiber is the king of fibers, but only few know the special properties of the most luxurious natural material on earth. Some people call it "the woven gold", for a multitude of reasons. Living in the Andes mountains at such a high altitude, these animals have to deal with the harsh weather conditions. The change of climate is rapid during the day, causing a difference in temperature up to 30 degrees. As a result, their fleece developed in a way that protects them from the intense sun rays, the icy wind, the rains and the humidity. Given these, the alpaca fiber has the privilege of water resistance and thermal insulation at the same time. For this reason, alpaca clothes are suitable for harsh weather conditions and their light-weight texture make them the proper outfit for outdoors sports, such as hiking and skiing.
   Based on researches, garments from alpaca are warmer, lighter, softer and stronger than both cashmere and wool. Its fiber diameter and length are higher than wool, which make it lighter in weight. Also, the tiny individual scales seen on alpaca fibers are smoother and lower than other fibers, which give this soft and luxurious sense, especially for people with extra sensitive skin. Its durability is amazing and, the fabric maintains its colors and form without wrinkling or shrinking. That's why ancient traditional alpaca textiles have been found impecable  after centuries. With proper care, these kind of clothes can last for many many years in comparison with cashmere, which due to its short-length fiber is more likely to pill after a period of time. 
   One of the most important advantages of this incredible fiber is its hypo-allergenic ability. Contrary to wool, alpaca wool doesn't have lanolin, a greasy substance of fleece responsible for allergies. Additionally, researches show that the keratin protein component of alpaca fiber provides an antimicrobial protection and odor resistance naturally that lasts throughout the garments lifetime. Although, other wool industries have developed chemical procedures to also prevent bacterial growth, the results last for a short term, as the chemicals vanish after a period of time due to the usage and washing of clothes.
3. Eco-friendly – green animals
   Alpaca is one of the breeds that belong to camelids family. In comparison with other livestock raised animals, this kind leaves a much smaller ecological footprint. They eat only the 1 – 2 % of their body weight, goats (cashmere) eat the double amount of grass. Besides the efficient consumption, when alpaca eat grass they do not rip out the roots of the grass, thus allowing the plants to thrive again. Their hooves are soft at the bottom and in combination with their light weight, their feet don't cause soil erosion, reducing the environmental impact naturally. Shredding alpacas is harmless and cruelty-free, as they need it once a year to prevent heat strokes and skin diseases. By nature, their fleece comes in a variety of 22 different natural colors, avoiding the procedure of chemical usage during dying. As we mentioned before, the lack of lanolin makes alpaca fiber more eco-friendly. In the process of lanolin discarding, industries use harsh chemicals and tons of water in order to offer a smoother and cleaner texture, while alpaca has these qualities naturally. In conclusion, alpaca are the most efficient and greenest animals in the world!
4. Peruvians and alpacas today – Exports and livelihood
   Last but not least, farming alpaca breeds is an ancient habit and heritage of Peruvian people for centuries. From farmers to retailers, to traditional industries, it is assumed that alpaca fiber production is one of the main sources of livelihood in the Andes. Exportation of traditional textiles and products not only will help the living standards of local citizens, but also will help the small local companies to thrive. In short, alpaca products are the gift from Peruvian counties to the humanity, as the properties of this fiber are so valuable. Let's thank all these people for their efforts to offer us the best quality transformed into perfect products by ordering them! Provide a better future for Peruvians and a better farming life for alpacas!